More Pictures of Holmes and Watson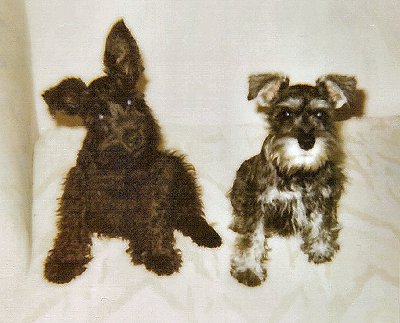 When we got the boys home with us, we acquainted them with the sofa.
They spend a lot of time on the sofa. They were great at posing, even then.

Every year, the Four Oaks Puppy Club requires that Bill and Carol send them a picture of us. So they started putting pictures of us in their Christmas cards a couple of years ago.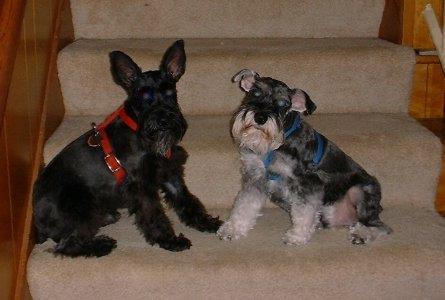 This was the first one they sent out. They called it "Our Stepdogs."



They sent this one out in 2001



Then they sent this one out in 2002.



This one was the one they sent out in 2003.
Please bear in mind that the funny hats are Bill's idea.
We have more dignity than that, as you will see in the rest of the photos.



Here is our 2004 Christmas photo.




Here is the 2005 holiday card photo. Note the fez to show diversity.




Here is the 2006 holiday card photo.
The party hats are from Bill's cups and balls collection.




The photo from 2007
Holmes and Watson guarding the tree
hoping to catch Santa in the act.




Our 2008 holiday card photo
Holmes and Watson guarding the tree once more,
The Nutcracker Brigade is here for reinforcements.

The helmets are 19th century French "street" cups
on loan from the Cups and Balls Museum.




Here's the one from 2009
Holmes and Watson guard the tree again.
This year, they are using a decoy.

Helmets by Brett Sherwood Magic.



Nobody knows how to clean an ear like a Schnauzer.




After a hard day posing for pictures, we expect a reward.
Here we are, patiently waiting for our cookies.HURRY UP, BILL!!!



This was the warmup for the "stepdog" picture.



Our favorite hobby after a long day of photography -- snoozing.


All pages on this site © Bill Palmer. All rights reserved.
For permission to republish contact Bill Palmer at the above e-mail address.