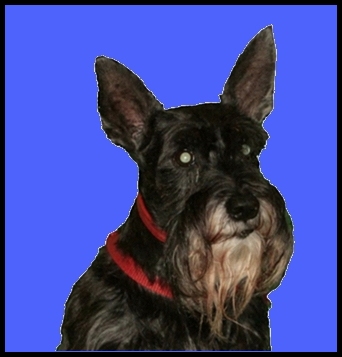 Rest In Peace, Sherlock Holmes -- April 1998 - February 23, 2014
Schnauzers, like any other dog, eventually wear out. Holmes was no exception. He survived his brother, Watson by a little more than a year; however, Holmes had a number of tumors. The largest of them was under his right "armpit."

During the past few months, this particular tumor became larger and larger, and he began to lose muscle mass. Eventually, he had great difficulty walking and preferred to sleep all day. This tumor was inoperable because of its size and Holmes' advanced age (nearly 16 years!). His chances of survival were minuscule.

We knew his time had come.

On February 23, 2014, at 8:35 PM, he entered into rest.

A couple of weeks later, we placed his ashes on the grave of his mother, Carol, where the ashes of his brother, Watson, had been placed earlier.

So we said good-bye to our friend, Holmes, also known as the "Chupacabra of Timbergrove Manor." We miss him.

Rest in peace, my little friend!

All pages on this site © Bill Palmer. All rights reserved.